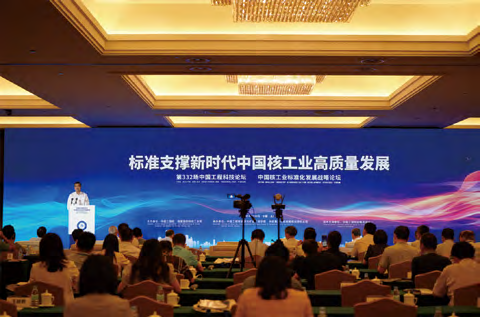 With the theme of "standards support the high-quality development of China's nuclear industry in the new era", China Nuclear Industry Standardization Development Strategy Forum was held on July 30 in Beijing.
More than 350 experts, scholars and technicians in the area attended the event on site or online. Among them are academicians of Chinese Academy of Engineering (CAE) including Zhao Xiangeng, Du Xiangwan, Su Yinao, Ouyang Xiaoping, Deng Jianjun, and Luo Qi, and Wang Yiren, Deputy-Director of Science and Technology Commission under State Administration of Science, Technology and Industry for National Defense (SASTIND).
Attendees discussed the objectives, strategic tasks and policy recommendations for the standardization of China's nuclear industry. In the new era, China has new strategic needs for the development of nuclear industry, and industrial innovation and high-quality development need the support of standards, stated Academician Zhong Zhihua, CAE Vice-President, addressing the event.
Entrusted by SASTIND, CAE set up the key research & consultation program on China's nuclear industry standardization development strategy in August 2019. Research achievements have provided important scientific reference for the policy making.
Dong Baotong, SASTIND Vice-Minister, called for strengthening the supporting and guiding role of standards for the development of nuclear industry in the opening address.
At the event, Zhao Xiangeng, leader of "China Standards 2035" project group, delivered a keynote speech to share his thoughts about the national standardization strategy. He gave recommendations in terms of 2035 standardization strategy, standardization reform, management of association standards, NQI coordinated development, international strategy, building of association standards organizations, public safety standards, academic education as well as statistical and investigation system in the standardization field.
Wang Yiren elaborated on the strategic tasks urgently needed and suggested establishing coordination systems for standardization in the new era and for harmonizing key project and standardization work, and increasing investment in the area.
Other experts made presentations on challenges and opportunities in international standardization, nuclear medicine, nuclear safety, nuclear fusion standardization, etc.