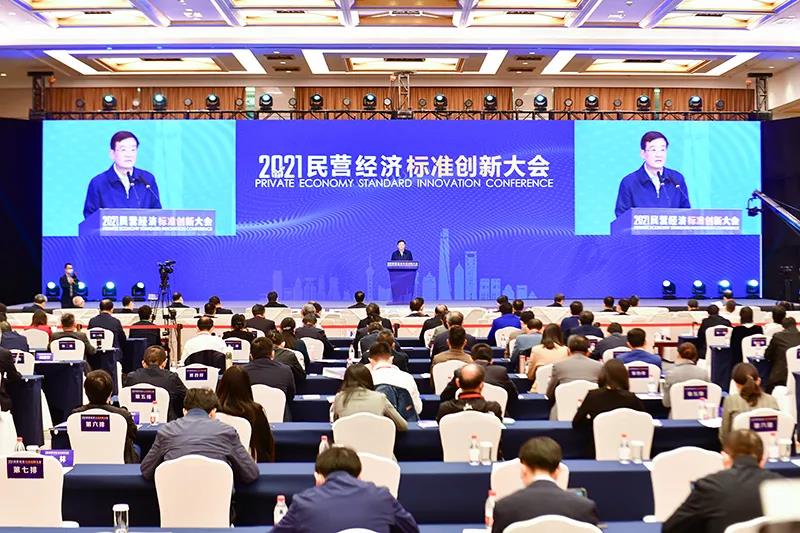 The Private Economy Standard Innovation Conference was held on October 26 in Shanghai. The conference is organized by the All-China Federation of Industry and Commerce, the State Administration for Market Regulation (SAMR) and the Municipal People's Government of Shanghai.
The conference focuses on standardization innovation in the field of private economy. Attendees including authorities, representatives of enterprises and international savants, discussed how private enterprises would speed up high-quality development and acquire bigger achievements in the new era.
Tian Shihong, Vice Minister of SAMR and Administrator of SAC, made a keynote speech during conference. Sergio Mujica, ISO Secretary-General, Shu Yinbiao, President of IEC, and Zhao Houlin, ITU Secretary-General made speeches on video.
Xu Lejiang, Secretary of the Party Committee of the All-China Federation of Industry and Commerce, expressed that standard should facilitate breakthroughs in high technology, and technology should become a firm basis for enterprise development. Standard should accelerate the implementation of a new development pattern. Furthermore, standard should become a global permission to participate in international competition and cooperation.
Xu said that standardization was an inevitable choice for private economic transition. Association standards for platform economy, sharing economy and digital economy are especially important for the development of new economy. We should promote sustainable development and build a better world together by standard innovation, said Xu.
Tian Shihong emphasized that we should utilize standard to stimulate innovation and enhance core competitiveness of private economy, which would eventually contribute to expanding their scale of production and operation.
Several working schemes were released on the conference, describing the framework and future plans of association standards.